Author: Alex Lidell
Narrator: Victoria Mei
Length: 5 hours and 27 minutes
Serie: Power of Five Book Series, Book 1
Publisher: Alex Lidell
Released: Apr. 29, 2018
Genre: Contemporary Fantasy


Four elite fae warriors. One mortal female. A magical bond they can't allow – or resist.

Orphaned and sold to a harsh master, Lera's life is about mucking stalls, avoiding her master's advances, and steering clear of the mystical forest separating the mortal and fae worlds. Only fools venture into the immortal realms, and only dark rumors come out… Until four powerful fae warriors appear at Lera's barn.

River, Coal, Tye, and Shade have waited a decade for their new fifth to be chosen, the wounds from their quint brother's loss still raw. But the magic has played a cruel trick, bonding the four immortal warriors to… a female. A mortal female.

Distractingly beautiful and dangerously frail, Lera can only be one thing – a mistake. Yet as the males bring Lera back to the fae lands to sever the bond, they discover that she holds more power over their souls than is safe for anyone… especially for Lera herself.

Power of Five is a full-length reverse-harem fantasy novel.




Alex Lidell is the author of Amazon best sellers AIR AND ASH and WAR AND WIND (Danger Bearing Press, 2017) and an Amazon Breakout Novel Awards finalist author of THE CADET OF TILDOR (Penguin, 2013). She is an avid horseback rider, a (bad) hockey player, and an ice-cream addict. Born in Russia, Alex learned English in elementary school, where a thoughtful librarian placed a copy of Tamora Pierce's ALANNA in Alex's hands. In addition to becoming the first English book Alex read for fun, ALANNA started Alex's life long love for YA fantasy books.

Story: 4
Narration: 3
Overall: 3.5
Naturally for a reverse harem this book was steamy, but it had more going for it than that. The characters are well developed and the narration for each is clear and definable.
I really did enjoy the story but while I felt the characters were well rounded and well developed I did feel that the story required something (I cannot put my finger in what was missing for me, I think it just needed tweaking)
I do think that this is still worth a listen, it just didn't quiet fully work for me.
Initially I admit, I was not a fan of the narration however I feel this is more down to personal taste, it did grow on me a bit, but I did not love it. I cannot fault the narration, there was nothing wrong with it. I just didn't like some of the characters voices (though as I said, they were clear and definable.) I do wonder if I would enjoy the story more with different narration as I always feel that for an audiobook to completely be enjoyable the listener has to appreciate both the voice acting and the writing.
I received this audiobook as part of my participation in a blog tour with Audiobookworm Promotions. The tour is being sponsored by Alex Lidell. The gifting of this audiobook did not affect my opinion of it.

Jul. 3rd:
Dab of Darkness Audiobook Reviews
Jul. 4th:
Jul. 5th:
Jul. 6th:
Jul. 7th:
Jul. 8th:
Jul. 9th: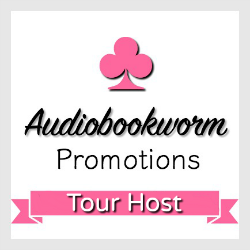 ➜Sign up as a host here